How to Apply a "Pea-Sized" Amount
Learn how to apply the tiniest amount of product evenly over your skin |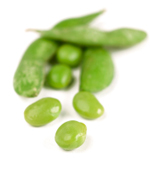 Almost every topical prescription product (especially retinoids) will instruct you to apply a pea-sized amount. I know what you're thinking. A pea–sized amount? Is that enough to cover my whole face? Is that even enough for the product to work?

The answer is yes, yes, and yes. Applying a pea-sized amount will ensure that you have a thin layer of product spread on your skin, but not so much that it will cause irritation.
Follow these tips to learn the best way to apply a pea-sized dollop of a treatment product to your skin:
Put a blob of product the size of a pea on your index finger.


Lightly dot the product evenly around your face. I like to put three tiny dots on my forehead, three on each of my cheeks, one on my chin, and one on my nose.


Smear the dots together and into your skin. You have to be fast when you're dotting and spreading or else the product will dry up and you won't have enough to cover your whole face.


If you find that a pea-sized amount is really not enough for your face, you can use a bit more product. Just try to use the smallest amount possible that is still enough to spread thinly and evenly over your skin.
So there you have it, an easy peasy way to apply a pea-sized amount of a treatment!
Last updated: September 19, 2012
How to Fade Post-Acne Dark Marks and Scars
Back « How To's
---
Related articles:
---